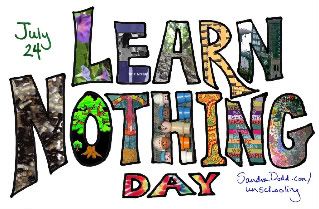 It's Unschooler's 1st holiday ever,
Learn Nothing Day
. My kids are still in bed sleeping, learning absolutely nothing.....But, I'm not sure I'll be able to make them observe this holiday...unless we tie them down, cover their eyes, their ears and make them touch nothing! Let's see how much we can
not
learn today! If you want to learn more about
unschooling
(but not
today
!!LOL), check out
Sandra Dodd's
site as well as the many wonderful links that she has there.