What we didn't (& mostly did) learn on Learn Nothing Day....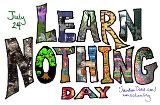 Kids both still asleep in bed, after staying up and watching Avatar on a dvd we rented from the library (Livie), reading a couple of stories (Zen Shorts and Froggy learns to swim), and playing with some legos and her Imaginext knights and kings, Violet was reading BFG by Roald Dahl, me-obsessively reading Pillars of the Earth (It is sooooo good!!!)
Logged on to Yahoo email and checked emails
Went to my blog and realized it's Learn Nothing Day, updated my blog to reflect that it is Learn Nothing Day
Went to
Sandra Dodd's
website and read most recent posts, looked at linked posts regarding Learn Nothing Day
Learned it was Sandra & Kirby's birthdays, wished them Happy Birthday
Checked out more linked blogs from her blog posts
Found this
one
, and reminded me of my interest in learning to felt
Looked up how to felt and found this
site
, bookmarked it.
Livie woke up and cuddled up next to me and wanted to watch a cartoon, so I turned on Legend of Tarzan for her and watched it with her.
Got up to make some coffee and make some breakfast for Livie.
Violet gets up, informed her it's Learn Nothing Day and that she's to learn nothing today, she looks at me like I'm nuts.
We talk about what we might do today....make some zucchini bread, go buy a birthday present for her friend, go by the craft store. We're out of eggs for the zucchini bread so we need to go by the grocery store as well. Also, Violet needs some new tennis shoes, some socks and underwear.
So off we go...1st stop is KMart and got some stuff for Violet. Found a cute houndstooth print leggings with lace on the bottom and matching shirt combo for her. I hardly ever by her new clothes (mostly thrift store and hand me downs) so it was a special treat to get a new outfit. She's been wanting some leggings for a long time. None of her tennies fit her so we got her a new pair and looked for soccer shoes while we were there for both of them. Nothing fit. Learned they've both gone up a few sizes!
Then, we were a little hungry so we went through
our
my favorite Mexican food drive through for some tacos and beans (for Violet) and rice (for Livie) and headed to the local park to eat our lunch. Livie tried to strike up a conversation with a little boy and learned that some 2 year olds don't know how to talk yet. The food was great, Violet tried the tacos, though she thought she wouldn't like them and discovered (yes, learned!) that she liked them and would like to order her own next time! It was pretty hot out (about 93 degrees) so we didn't stay and play and moved on our way.
We stopped by a new thrift store where Violet had a seen a pencil case with a dolphin on it the other day and really really wanted it. It was a quarter so she bought it as well as a Teenage Mutant Ninja turtle for her sister. Livie played for a little while with the toys while Violet and I browsed around a little more.
We headed over to the Sporting Good store for cleats but I had promised ice cream so we went to Thrifty's first. Violet got the chocolate chip cookie dough icecream, Livie the cotton candy, and me, my favorite Pecan Pralines. We enjoyed them out front and Livie ended up with most of it on her face and hands! : ) Used their bathroom to clean her up and headed to the Sport store. Stopped in ladie's dress shop that we had seen but had never stopped at before to browse. Violet found some black legging stockings in her size so we picked some up. Olivia discovered the security tags and was curious as to what they were. I explained that they set off an alarm if they were not removed from the clothing after someone purchased it. She was really curious about it so I asked the lady that worked there if I could show it to her, she said sure. So I put the clothing by the door and sure enough the alarm went off. Olivia was so excited about it! If it hadn't been for the salegirl, I would have let her try it again & again (like she really, really wanted to!)
Finally, sporting store was next door. There air conditioning was not working and it was very hot in there, but the young guy helping us didn't mind and was very helpful and friendly. They had a great package deal for a pair of cleats, shin guards and a ball so I got a set for each of the girls since they'll be playing in September.
Ran into Stater's for some eggs for the zucchini bread, grabbed a couple of waters on the way out.
Next, we stopped at the Craft/Scrapbook store. They have a fun little play area for the little ones, so Livie was quite happy to stop there while Violet and I looked around at the new papers they had. Violet wants to make a fairy page so we bought some pretty paper with sparkles on it and some stickers. I found out about the classes that were coming up and found they were having a scrapbook page and card making that evening at 630, so decided I'd come back for it. I had a lovely chat with the lady working there about spinning wool, felting, her life, organic clothes, textile designing, gemstones and so much more. Such a lovely lady, I hope we become good friends (I will be coming back more frequently). We talked about ideas for me and kids to be able to come and do with her and people that she knows (spinning wool, gemstones....) What a great resource she is!
Whew, they day went by fast and the girls had swimming lessons that we had signed up for that started this week. We rushed home and changed and headed up to the school.
Violet class was first. They mostly practiced things that she already knew, but she has fun and likes the instructors there (they are all young and very personable and friendly). Livie and I sat and read a book while waiting, then Livie went and made a new friend who she had fun with running back and forth on the bleachers and playing follow the leader. They played in a goalie net that was next to the pool and Livie got tangled up in it. I had to take off her sandals to get her out of it. She learned how tangly those nets can be! : 0
Not surprisingly, to me, Olivia started swimming after her 1st lesson on Tuesday this week. On Wednesday, she got in the pool with dad, without the floatie Superman swimsuit, and started swimming toward him across the width of the pool! I had known that if she took it off she most likely would be swimming and sure enough, she was! I think that by going to the swim class on Tuesday, it gave her the courage to swim without the floatie and taught her to breath under the water (blowing bubbles). Now, she's fearless! She jumps right in and starts swimming (dog paddling) towards you. I have to keep a very close eye on her now, especially, with her new found swimming skills. But, it's so very exciting to see.
We got home and I ran off to the craft class while Violet stayed home with Dad and made some yummy dinner (noodles, turkey sausage, and mushroom soup). I got home and Livie was riding her Harley cycle in the driveway in the dark with Dan sitting in the garage watching her.
I can't say we didn't learn anything, but we sure had a fun day trying (well, maybe not trying too hard) and look forward to Learn Nothing Day next year. If anything, it really makes you take notice to all the things that you learn everyday without even trying. And, these are just the things that I noticed. I'm sure that each of my children had many learning moments that occurred through out the day, that were not perceived as "learning" to them, but were learning nonetheless.
To find out how other unschooling families spent their Learn Nothing Day be sure to check out
Sandra Dodd's
blog.