1. If I could travel back in time, I'd go to
the Big Bang

!
2. Give me
sunshine
or give me
a really warm, cozy sweater
.
3. I am listening to
Skunk Fu, kids talking, fan whirring, birds chirping.
4. Somewhere, someone is thinking about
someone that they love.
5. I'll always be
optimistic
.
6. My idea of a good time includes
being outdoors, enjoying the sunshine and watching the kids play.
7. And as for the weekend, tonight I'm looking forward to
Dan coming home from his overnight fishing trip safely
, tomorrow my plans include
maybe....go to the town fair
, and Sunday, I want to
relax, bbq and swim in the pool with my family!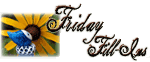 Go Fill in your Friday! Be sure to comment with a link, I'd love to see your fill-ins!!!!