Happy Birthday to me... I'm 45 today and woke up to a nice kiss from hubby, a beautiful handmade card from my daughter, and a nice phone call from mom. I'm looking forward to a nice day with the girls and lunch at a nice Mexican food restaurant with mom & dad and Aunt Violet visiting from England later on. I'm feeling pretty good at 45. I had gained alot after breaking my ankle last year when my activity level really decreased. And now, I'm finally feeling so much better that I've been able to lose 20 lbs in about 2 months and working on losing some more. Have started going to the gym again and trying to be more active. I'm loving staying home with the girls and am so appreciative that husband works so hard to make us able to do so.
Now on to some Friday Fill Ins...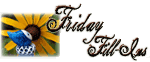 1. Right now, I'm feeling joyful to be alive and well at 45!

2. Exactly where I am is where I want to be.

3. How does one calm down a 5 year old?
4.
My husband and family
keeps me on track.
5. Please don't
make assumptions about unschoolers/homeschoolers (Read about it, before you do)
.

6. My family, my life, nature, cats, art, many, many things fills me with joy.

7. And as for the weekend, tonight I'm looking forward to having a nice birthday dinner with my family tomorrow my plans include soccer games and ice skating with friends and Sunday, I want to get romantic with hubby for our 11th anniversary!! : )